I got out to Briarwood the other day, and there are some things you should know about.
The space where MC Sports was has been bisected. The parking lot entrance is home to a nail salon and spa:
I don't know what the overlap of services is between Signature and Tricho, which is directly opposite Signature on the other side of the Briarwood corridor entrance. Signature is the first Briarwood store I have ever seen not to have an internal entrance for customers.
Earlier this year, the MC Sports space was occupied by a bounce-house operator who is probably renting all their equipment out now for outdoor events.
Cinnabon is closed and walled off, with a literature stand attracting potential franchisees to run a Cinnabon in the mall.
I don't know if they're updating this one or if they just would rather have a blank wall than a closed Cinnabon. I've never run a mall, apart from when I worked at the mall and my friends used to say such as, "yeah, Britain basically runs this mall."
Best Buy Mobile is gone. This was basically a tiny Best Buy store that only offered mobile phones and phone accessories, like bluetooth speakers and headphones and cases and cables. It matched the big-box Best Buy location across 94 for prices and such, but was more convenient if you were already at the mall. I think both parties, ultimately, will survive.
Meanwhile, T-Mobile managed to double-size, by taking over the Aldo shoe store that was next door:
There's a similarly large Sprint store directly facing this T-Mobile store. If the Sprint-T Mobile merger actually happens this time, there's gonna be a helluva reckoning here.
Finally, I wanted to remind you that Olga's Kitchen is still a viable business. Although they recently closed up on Plymouth Road, the Briarwood location appears to be prosperous-ish:
I had to get this
[/caption]I had to get this photo because a.) nobody was in it and 2.) it showcases three distinct Olga's logos from their corporate journey.
The illuminated sign over the doorway dates from their years as a funky little locally owned chain.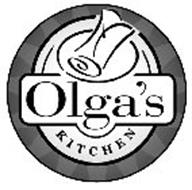 The New Century Schoolbookish wordmark on the "Our Host Will Seat You" sign mounted to the counter dates from the late 90s and 2000s when they were trying to modernize.
The current logo, where they are still locally owned and still a chain, but probably not funky, can be faintly glimpsed on the standing sign in the mall corridor. I don't really care what they do with the logo, as long as they leave the bread alone.