VERY MINOR SPOILERS AHEAD:
The end of today's post contains a significant background detail for one of the plots on the HBO series "The Righteous Gemstones" , so if you've been planning to watch it and want to go in knowing ABSOLUTELY NOTHING, maybe come back after you've binged at least the first three episodes or so.
Okay, on to the "news."
The Quarter Bistro ended its fifteen year run at Westgate recently.
The Quarter Bistro was a New Orleans themed restaurant. It followed the now-defunct chains Mountain Jack's and Rio Bravo in that Westgate outlot space. An /r/AnnArbor post broke the news that it will be succeeded by Stadium Boulevard stalwart Lewis Jewelers.
Lewis Jewelers has experience with repurposing a restaurant. Its current location, at 2000 West Stadium Boulevard, is a heavily-fortified onetime McDonald's. If you didn't know it already, can you kind of see it below? I don't have any photos handy of the McDonald's back then, but picture the mansard roof from an old McDonald's and a drive-thru window along the long wall. McDonald's moved to its current location, a couple blocks west on Stadium, in the late 80s or early 90s.
Quick flashback to Fingerle Lumber. Over about two weeks from the end of July to the beginning of August, most of the buildings on the site were demolished. I work nearby, so I managed to get some photos of the site immediately before and during the work. A lot of them are Live Photos so there's a bit of motion.
(Some of the shots toward the end are pretty cool, but it might take some work to get there, sorry. I was snapping as quickly as I could trying to document and didn't feel like using video camera mode. I wish Flickr Pro was still $25 a year, sharing was great and there are a lot of retail nerds there. I'd join up again for $25 like it used to be, but $50 is a bit much. Google Photos is free and fast but embedding is a little janky.)
U-M has not yet announced further plans for the block, but as soon as the debris was carried off, the lots were marked Yellow Parking (a relatively-affordable option for staff and some students). It is anticipated that this will someday be either additional student housing or maybe more Athletics buildings.
All Hollowed
Have you heard about the petitions to move Halloween from All Hallows' Eve to a Halloween is coming up fast, so Spirit Halloween is once again popping up around town. The national chain has a outlet in a past-years location at the old Arhaus Furniture inside Arborland, as well as in the old Babies
"Я" Us on Carpenter Road. It also once again joins its sister chain, Spencer's Gifts, at Briarwood, but now in a new location there…
Previous years saw Spirit in the cavernous space that was once the movie theater, but that space has been subdivided and a day spa has the external entrance, so Spirit Halloween now finds its temporary fortune in Briarwood's largest and most infamous vacancy… Sears! But first, let's enjoy some of that world-building and tale-spinning you can only get on premium cable.
One of HBO's latest series is "The Righteous Gemstones," a dark, twisty comedy about a family of evangelists who attempt to expand their successful ministry across the world, as well as into the fictional Southern town of Locust Grove.
In what has to be the most unusual brand placement opportunity since "Baskets," the Locust Grove location is, conspicuously, a recently closed Sears store. ("When capitalism collapses, that's where we come in," a Gemstone proudly crows.) The theater where the services are held appears to be accessible from inside the mall and the parking lot, but the Gemstones apparently worked quickly to open, as the backstage is still filled with detritus from the store's previous purpose.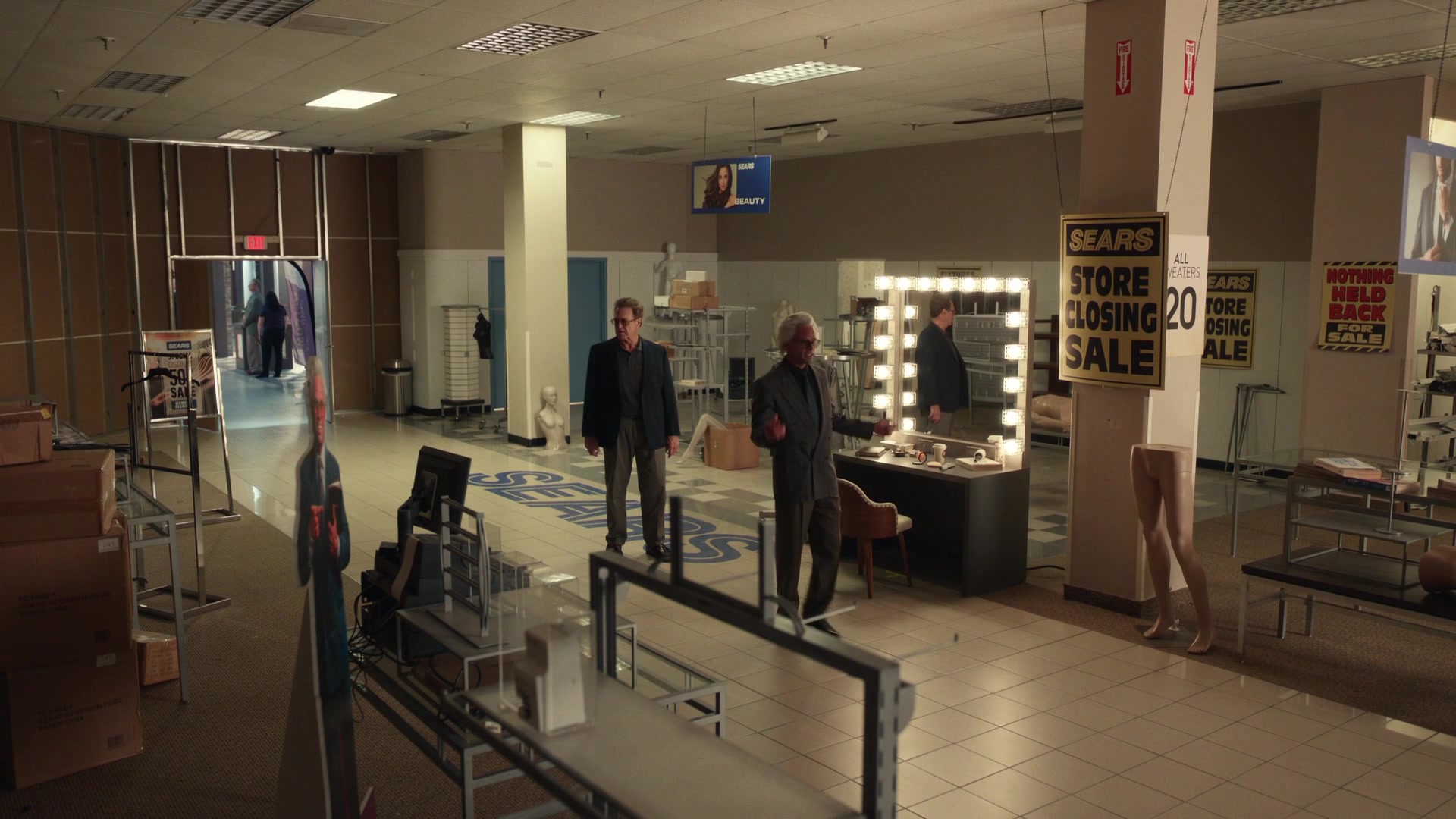 Anyway, here's Wonderwall the Briarwood Sears now, as a purveyor of Halloween accoutrements.
Spirit has located itself in the south side of the old Sears store, where the shoes and I think the misses' section used to be. Optical and Portraits were near here too. Much like the Gemstones, this Sears is too much room for even a Halloween specialist in peak season, and although there are some elements you wouldn't expect (many operational animatronics so you can try before you buy for your front yard; a walk-through "fish tank" using large-screen TV panels as the view ports), Spirit has erected temporary walls to contain the sales floor, with pegboard panels to hang their wares.
Purely in the interest of journal-ish-ness, I placed my phone camera up to one of the peg holes to capture what it looks like back there. As in the rest of real life, it is much less interesting than the HBO version.
You can tell by the blue on the walls and pillars that this is where the Lands' End section used to be. Little else has occurred in the space since Sears vacated just after the dawn of the New Year.
No telling what comes next once Spirit folds for the season. Previously I speculated this might be a good location for the return of Alamo Drafthouse, but:
Alamo tends to target less-saturated areas for new locations. I'm pretty sure Emagine Saline and the State Theater, two venues with bars, make Briarwood less attractive by their standards
Midtown Detroit developers are targeting Spring 2021 for an Alamo on Woodward Avenue (a long-touted plan)
Patti and I will be back to talk about "Vanishing Ann Arbor" again at the Kempf House Museum on Wednesday, October 9, at noon. Hope to see you there!